Durham Go Tournament

Francis and Tim were both pleased to win beer
The Durham Go Tournament on the 4th and 5th June started a busy month of events. Held at Durham School, just west of the city centre, it was attended by 49 people. Those who arrived early could play Go in the Victoria Hotel on the Friday night and on the Saturday night 36 of the players made a local Chinese buffet owner very happy.
The tournament ended with a tie for first place, between Francis Roads (4 dan Wanstead) and Tim Hunt (3 dan Milton Keynes), each on five wins. Also on five wins was Patrick Ridley (22 kyu Chester).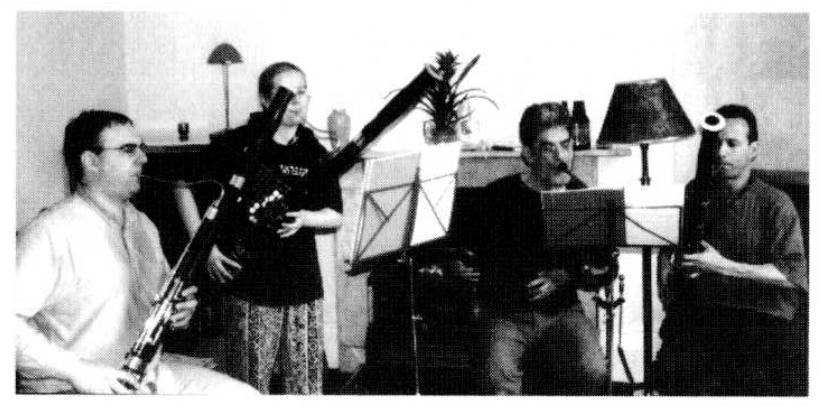 Tim Hunt, Jenny Radcliffe, Francis Roads and Andrew Jones make an unusual start to the Durham tournament with a bassoon and serpent quartet
Winning prizes for 4 out of 6 were Toby Manning (3 dan Leicester), Andrew Grant (3 dan Milton Keynes), Quentin Mills (4 dan Cardiff), Claas Roever (3 kyu Dublin), Peter Allen (4 kyu Liverpool), Chris Morris (5 kyu Durham), Colin Bavidge (6 kyu Newcastle), Stuart Parsons (7 kyu Staines), Chris Barnett (8 kyu Durham), Etienne Dufrier (9 kyu Teeside) and Stephen Bashforth (17 kyu Leicester). The continuous 13x13 side event was won by William Brooks (1 dan Cambridge) and the lightning by Matthew Holton (2 dan Teeside).
(British Go Journal no 137, Winter 2005, p17)
---
Results list (British Go Association)
---
For more information about the club, please email the Exec.
For questions, comments and suggestions on this site, please email the webmaster.